WheelsUp!
Where would YOU like to go?
Let's go with WheelsUp!
WheelsUp! is an online travel raffle!
$110 buys a 1-in-100 chance to win $1,000 cash plus a fabulous destination – and we're raffling off four fantastic options!
A Travel Raffle? Really?
A worldwide pandemic may have changed 'life as we knew it' but some things never change:
The homebound still need our help.
We are anxious to get away, to relax and enjoy, to travel somewhere, anywhere!
WheelsUp! features 4 fabulous destinations. For $110 ticket purchase, you can provide a month of meals for someone in our community.
Another thing that will never change is your ability to make a difference with each ticket you purchase.
So, Where are we Going?
Congratulations to our lucky 2022 winners: Mary McCarthy (Ireland), Lisa Hayes (Dominican Republic), Wanda Yoder (Vancouver), and Rebecca Harper (Vail)!
Also, congrats to Brad Malcolm, winner of the Moore & Giles suitcase raffle.
We are already planning for some fun, new featured destinations for 2023!
How Can I Purchase a Ticket?
Visit WheelsUpLyh.org during the month of September for complete raffle details and to purchase your ticket
Be on the lookout for WheelsUp! again next September!
Please thank our amazing sponsors, who are making our WheelsUp! adventure a tremendous success! Please mention to them how much you appreciate their support of the homebound in our community.
Trailblazer Sponsors:
Adventurer Sponsors: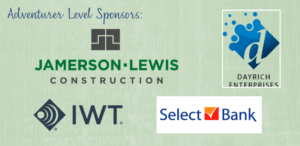 Explorer Sponsors:
Bank of the James
Schewel Home
Radiation Oncology Associates of Lynchburg
WSET-13
CMG / Seven Hills Urology – in honor of Robert Cook's retirement
Blue Ridge Hearing Aids & Audiology Associates
Vaden & Madden
Voyager Sponsors:
George's Seed, Feed & Grow Shop
Tharp Funeral Home
Terry Subaru
Anthony & Co. Salon
Brownstone Properties
Davies & Davies
Letter Your Lawn Lynchburg